Bruneau-Grand View Joint School District is located in Grand View, Idaho, in the southwestern corner of the state. The pleasant arid environment and tight-knit community makes the area the perfect place to raise a family.
The district believes in providing the best academic environment possible for all students. This includes a variety of clubs and activities, sports opportunities, and special education programs for those who qualify. We welcome and encourage parent involvement. After all, parents are children's first teachers!
Our district includes two elementary schools and a junior/senior high school, and we serve children in kindergarten through 12th grade.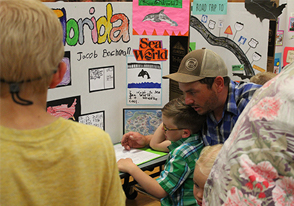 The Bruneau-Grand View School District provides a high quality education, preparing students for futures that enable them to be positive contributors to society.
Our learners are capable, confident, and embrace learning.
We expect to be:
Ethical in our conduct
We do what is right.
Reliable in our actions
We do what we say.
Responsible
We are disciplined, dependable, conscientious, and committed.
Inspirational
We motivate positive actions in children and adults.