Bruneau-Grand View School District News
In a small community like ours, area schools are often the center of the neighborhood. It's where children and families alike gather for the betterment of the community. To that end, we have many family-friendly events and programs planned throughout the year. We also like to publicize the accomplishments of our students and staff. Stop by often to find out all the latest!
Pre-K and Kindergarten Round-Up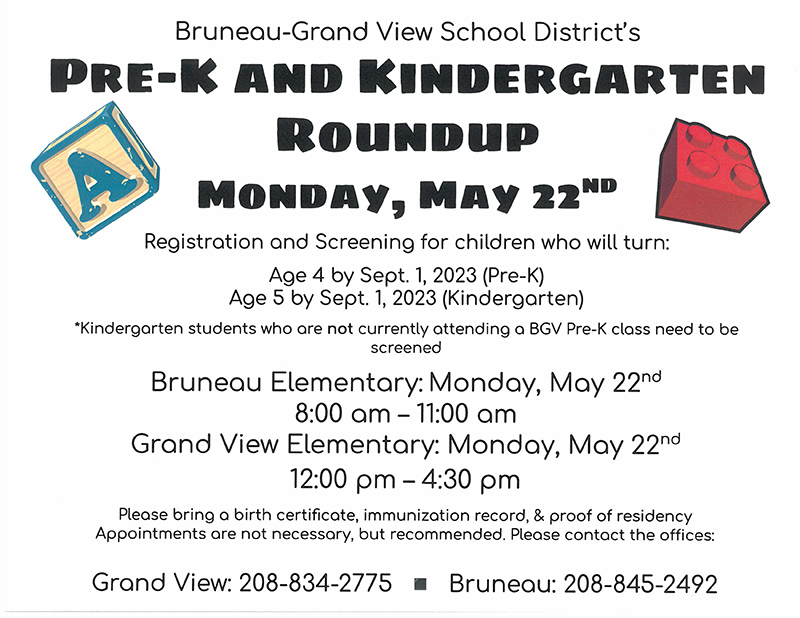 Mark your calendars for our pre-k and kindergarten round-up on Monday, May 22. There will be registration and screening for children who are:
Age four by September 1, 2023 - (Pre-K).
Age five by September 1, 2023 - (Kindergarten)
*Kindergarten students who are not currently attending a BGV pre-k class need to be screened.
This event runs as follows at the following locations:
Bruneau Elementary: Monday, May 22 from 8:00 to 11:00 a.m.
Grand View Elementary: Monday, May 22 from Noon to 4:30 p.m.
Please bring a birth certificate, immunization record, and proof of residency. Appointments are not necessary, but recommended. Please contact the following offices:
Grand View: (208) 834-2775
Bruneau: (208) 845-2492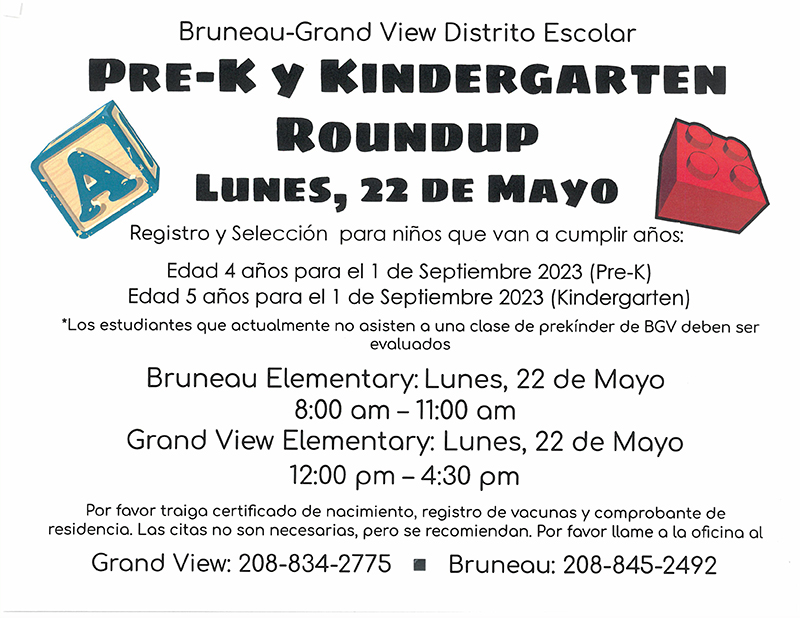 Marque sus calendarios para nuestro resumen de prekínder y kínder el lunes 22 de mayo. Habrá registro y evaluación para niños que:
Cuatro años antes del 1 de septiembre de 2023 - (Pre-K).
Cinco años antes del 1 de septiembre de 2023 - (Kindergarten)
*Los estudiantes de jardín de infantes que actualmente no asisten a una clase de prekínder de BGV deben ser evaluados.
Este evento se desarrolla de la siguiente manera en las siguientes ubicaciones:
Primaria Bruneau: lunes 22 de mayo de 8:00 a 11:00 a. m.
Escuela primaria Grand View: lunes 22 de mayo desde el mediodía hasta las 4:30 p. m.
Por favor traiga un certificado de nacimiento, registro de vacunas y prueba de residencia. Las citas no son necesarias, pero se recomiendan. Por favor, póngase en contacto con las siguientes oficinas:
Gran Vista: (208) 834-2775
Bruneau: (208) 845-2492
Child Find: Pre-Kindergarten Round Up
Each year the district reaches out to the community to find young children (four year olds or five year olds who did not attend preschool) who will be attending school in the fall. We bring these students in to see what skills they already have.
This year we are going to be holding a Child Find event in May. Depending on the turnout, we may also do one in August to make sure all students have an opportunity to show what they know before starting school.
Please call Peggy at Bruneau Elementary at (208) 845-2492) or Bonni at Grand View Elementary at (208) 834-2775) or complete our pre-kindergarten round-up form to register.